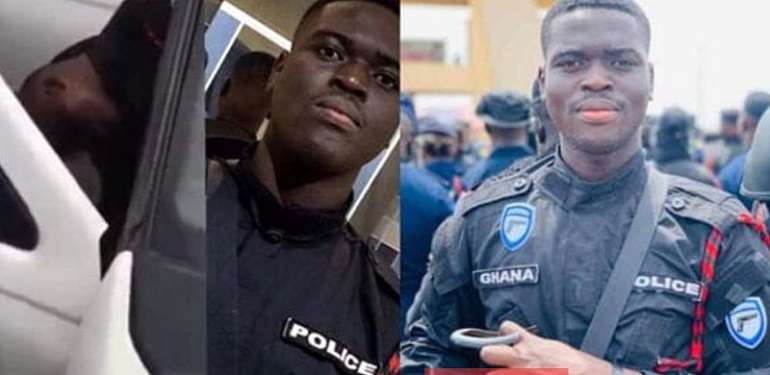 I am very sad about the passing of the young police man who was shot and killed in cold blood yesterday during an armed robbery attack. I do send my condolences to his family and loved ones and I pray that God gives them the strength to contain this pain that they feel. I also do send my kind prayers to the deceased as it is very necessary at this point to do so. May Allah have mercy on his soul and grant him Jannah.
In the media today and on social media as well, I have heard people call out the banks and the Ghana police service for failing to use bulletproof vehicles or proper bullion vans to convey cash from one point to another. As much as I agree that these calls are legitimate and I respect them, I do not think that will solve the problem. Yes, it is important that we use the right tool for the right job but I do not think that will entirely solve the problem.
You will all agree with me that this is not the first time we have had incidences of armed robberies and the killing of police men on duty in broad daylight. It is no doubt that this country has become unsafe for not just the ordinary citizen but even the security men and women meant to protect life and property. They themselves have their lives threatened by the actions of these bad armed guys.
As stated earlier, the use of bulletproof vehicles will not solve the problem. Why do I say so? Armed robbers plan their attacks, they take time to study their targets before they attack, they look out for all your vulnerabilities and take advantage of them. The planning can sometimes take several weeks to months to even years just to be able to get the right opportunity to hit their targets at their lowest, so even, if you purchase the best bulletproof vehicles, it won't stop the attacks. Even if it stops the attacks on bullion vans, the attacks may take another form. The problem has a root cause and that root cause is not the inability of banks to use bulletproof bullion vans.
What do I think is the cause? if you ask me, I will say that our society at large is the cause of the problem and let me throw the major blame to our political parties. In this country we have had the two major political parties, train young men and women to form vigilante groups to be used for their parochial agenda with the aim of capturing power and causing harm to their political opponents. We looked on, unconcerned as all of these happened for several years because we benefit in a way or the other from it.
On several other occasions we have witnessed the mayhem caused by these vigilantes yet we still sit unconcerned because of reasons best known to us. You should not be surprised that the perpetrators of these acts are members or former members of these vigilante groups. They have access to professional training as well as sophisticated weapons for their operations. In fact, some of the weapons that these people use are more advanced than what the police service use. How do they get them? That's a question we need to answer. Let no one deceive you that the perpetrators of these acts are foreigners. They are our own people. Even if there are foreigners amongst them, they work in partnership with our own people.
Unemployment is a major concern in this country and one of the leading factors of crime in every part of the world. As a nation, until we find a way to solve the unemployment situation in this country, we may have to braise ourselves for more of these incidents. Job creation must cut across different spheres of the country, it must cater for both the formal and informal sector to robe in all of these persons committing these crimes. I have never believed that a person will just wake up in the morning and decide to robe or cause mayhem without provocation. Unemployment, hunger, failed systems, sufferings etc. qualify as provocations for some of these acts and we will have to take a look at them.
Also, the Ghana police and the justice system of this country need to sit up, especially with regards to making sure that law breakers are brought to book. There are several cases of armed robbery, contract killings among many others still sitting on the shelve of the CID yet to be resolved. In any country where justice is delayed, there is room for more chaos. Perhaps if prosecution is fast tracked unbiased and professional, then we will have confidence again. I do not want to believe that the police do not know some of these criminals. In fact, the recent revelation by an Ex-convict on what happens in our prisons points me to no other option than to say that they may be aware of these people and where they reside and can bring them to book but as you are aware, Ghana we dey. Even if they are arrested, I can bet you they may never see the walls of the prison. They will be with us at weddings, naming ceremonies and parties. That's how pathetic this country is.
Let me also add that, we have lost most of our values as a society that used to exist in this country. We hail all manner of people because they display wealth without taking time to find out what their source of wealth is. There are a lot of people with ill-gotten money that we celebrate in Ghana and I find it very fascinating. We know very well among ourselves that the persons displaying such wealth either do not have any job whatsoever or what they earn based on the work they do cannot afford them such luxuries. Once you set out to question some of these things you are labelled as either jealous or envious of the people but we all know very well that the job the person does cannot afford them the kind of lives they live but we will rather pretend to look good in their eyes. There is so much rush to make money by young people. So much desperation that we will do anything to make money. No wonder those small boys in Kasoa killed their friend just for money rituals. That's how weak our moral fabric has become.
These bad guys have launched themselves and it does not look like they are going to stop any time soon. The police should sit up because the attacks have moved from the ordinary citizen and has started moving towards them. You remember the recent attack on a Forex Bureau close to the CID Headquarters? That alone should be a warning sign that these guys are no longer afraid of the police and will go any length to get what they want. There have been several other attacks all targeted at the police. I think that as a country we have taken our Security for granted for so long and it's time that we begin to take it seriously.
Our police must stop being reactive and start being preemptive and proactive. We have had enough of the abuse on ordinary people and the show of unnecessary bravado and Rambo style attack on ordinary citizens. The bad guys are out there. Go for them and stop abusing ordinary citizens who go about their daily activities in their quest to make ends meet. We have a whole national security unit that has never been in the news for the good reasons except for only bad reasons.
We may also want to look at the introduction of technology in our war against crime in this society. Other countries have done it before and I believe that we can do it too. After all spending on security can never be said to be expensive. Nothing is more important than life. The use of CCTV, the introduction of a national database, tracking systems, facial recognition among several others are means to adopt to help in the fight.
In bringing this write up to an end, I do not think it will be out of place for me to say that people are angry about all that has been happening in this country and the recent attacks are a sign of that. We must therefore start to take our personal security seriously as a people. Anybody at all could be a victim. Today it may be a police man, tomorrow it could be you or me, or our politicians or any of our leaders. Crime is no respecter of persons.
God bless our homeland Ghana and make our nation great and strong.
Ewura Adams Karim
Hse No 121
Mempeasem
Salaga