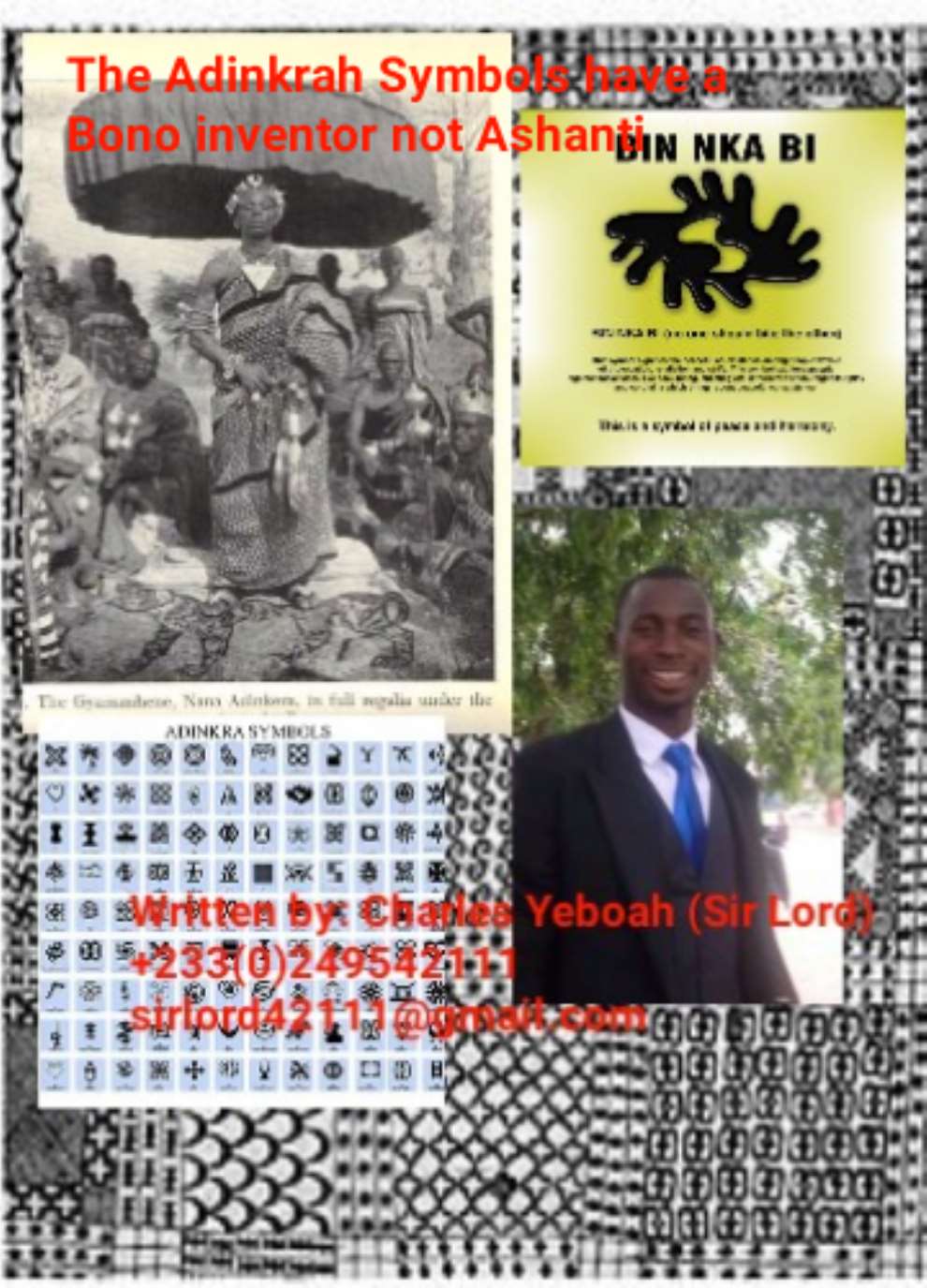 I've today (5th August, 2021) listened to Radio Ghana's (GBC) late afternoon flagship programme, Ghana Today, with more questions on my mind for the Ashanti regional correspondent.
Nicholas Osei-Wusu, I don't know if for his ignorance of what historical facts there is, or deliberately distorting the facts to suit whatever goals he's after, he denied a heroic Bono son his invention.
Reporting from Asokwa in the Asante region, the Radio Ghana reporter said on the programme aired between 15:00 to 15:30 GMT, that: "it's Asokwa that history tells us the Adinkrah Symbols originated from…"(sic).
So long as Bono sons live, and know for a fact that one of our own wields unchallenged patent rights to this sagely artistry invention that carries Ghana to the international world, we must lay bare the straight facts, even if we've not started claiming royalties from those who are using the ancient symbols for their self gains.
Nana Kwadwo Adinkrah Agyemang, who was a Bono Gyaamanhene, occupied the Suma-Ahenkuro paramountcy stool before the invasion of the Ashantis in the 18th to 19th centuries. He invented the Adinkrah Symbols, otherwise known as the Gye Nyame symbols.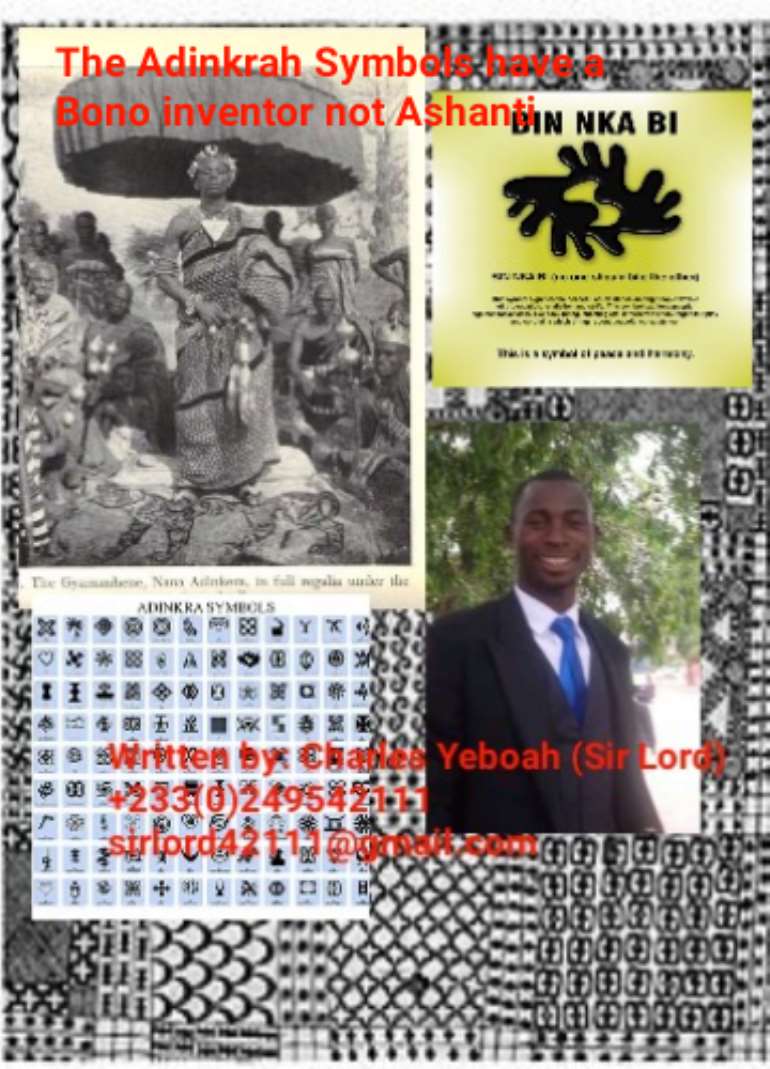 When the Ashantis subjugated Bono Gyaaman, history has it that, a skilful artist son of Nana Adinkrah called Adinkrah Appau, was taken captive, and was taken to the Manhyia palace (the seat of the Ashanti kingdom). And there, this skillful Bono boy was forced to teach the Ashantis how to design the Adinkrah Symbols into fabrics and on pottery.
And today as we talk, the first of this pattern (embossed in a piece of cloth) is kept in the British Museum in London as a war trophy after the Brits also defeated the Ashantis in their long battle.
We the Bonos have no feud, animosity or whatsoever against Ashantis. We're always brothers, being the first son (Akan piesie) of the Akans in Ghana.
Though we were forced to denounce our Bono dialect and learned the Asante Twi in our schools even as the word "Twi" is a name of a Bono 15th century king, (Nana Twi).
Though we don't shout to be praised for giving Ghana and the world the Symbolic Umbrella used by monarchs.
Though we don't brag for the sword used for swearing in, as even adopted by modern-day Ghana democracy, where elected presidents hold the Bono invented _Akofena_ ( golden war-sword).
Though we're not ready to debate any Ashanti for their version of origin of cloth, narrated as: "copying cloth-weaving from a spider at Bonwire", even as it's clear that there was Bonotoma (Bono branded cloth) long before Asanteman united.
But not this very precious timeless signature of Bonoman – our Adinkrah Symbols.
We the Bonos can't, and will never claim ownership of the Sikadwa Kofi (the golden stool) occupied by His Royal Majesty Otumfoɔ Nana Osei Tutu II.
So we also expect to be named for what is our brainchild's – the Adinkrah Symbols.
To the Radio Ghana editors, you must call for an explanation from your Asante regional correspondent, so this mistake does not rear its ugly head again on your much listened to programme.
We can always coexist peacefully without reshaping the existing historical facts, as dictates the Adinkrah Symbol "Obi nka obi" (bite not one another).
#Long live Bonoman
#Long live our ties with Asanteman
#Long live the Republic of Ghana
Written by: Charles Yeboah (Sir Lord)
A member of the Bono Language board.
+233(0)249542111
sirlord42111@gmail.com