The South African Football Association (SAFA) has given the strongest indication to file an official complaint with world football governing body, FIFA and continental counterpart, CAF about their defeat to Ghana in Cape Coast on Sunday, November 14, 2021.
Chief Executive Officer of SAFA, Tebogo Motlanthe, speaking with South African journalists prior to the team's departure on Monday, November 15, 2021 observed that there were many infractions in the game on the part of the match officials.
"Of course, we are looking at the precedent which FIFA set by ordering us to replay Senegal and we think if justice needs to be served the decision should be taken against this Ghana game."
Mr Motlanthe said not only does the penalty make them feel robbed but also there were a lot of questions about many decisions by the referee.
As a result, SAFA will engage the services of an expert to gather all the pieces of evidence to make a stronger case with their complaint.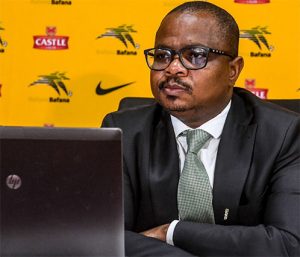 Tebogo Motlanthe
"I think from our hearts is to say the match officials have decided the game which is not what is supposed to happen.
"So, we as the Association have decided that we will be writing to both CAF and FIFA first to investigate how the game had ended and secondly to also challenge some of these decisions."
South Africa lost to the Black Stars by a lone goal through a penalty by captain Andre Ayew, qualifying the Ghana senior national team into the play-offs.
The match was officiated by Senegalese Ndiaye Maguette and assisted by compatriots Samba Elhadji Malick (Assistant I) and Camara Djibril (Assistant II).
The Fourth Referee was Gueye Daouda while Togolese Lawson-Hogban Latre-Kayi Edzona served as the Referee Assessor.
Kachalla Babagana Kalli from Nigeria was the Match Commissioner while Ghana's Christian Baah served as Covid-19 Officer.
Mr Motlanthe indicated that immediately after the match, they lodged a complaint with the Match Commissioner.
He said SAFA will officially address journalists in South Africa on Wednesday "after we would have done [and] ticked all our boxes and submit of course a full complaint which is supported by all the evidence which was there to say that game either it was manipulated or the referee had done something wrong before the game."
By Vincent Kubi