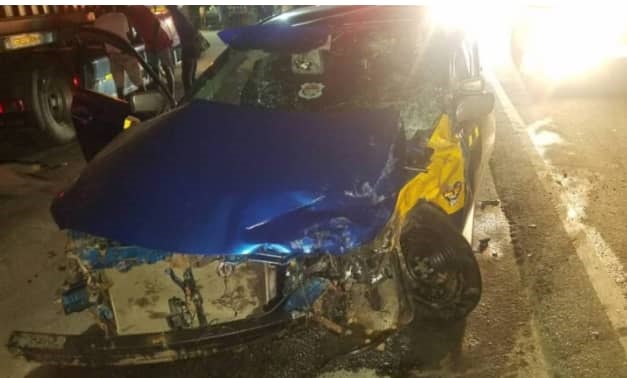 An unnecessary display and tooting of horns by some taxi drivers in Tarkwa as part of preparations towards the burial of their colleague deceased taxi driver, ended in a tragedy.
Two school children, aged 5 and 7, who were on their way to school, were hit by one of the 'displaying' vehicles injuring them severely.
The sad incident occured on Friday, June 4, at about 7 am in Tarkwa in the Tarkwa Nsuaem Municipality of the Western Region.
According to reports, the taxi drivers in Tarkwa were preparing for a funeral of their colleague who was killed by armed robbers last month.
The taxi cab drivers decided to put up a display with their vehicles in front of a drinking bar, called "Eleven O6," and according to eye witnesses, one of the drivers, who had his legs outside whiles his vehicle was in motion, hit the two school children from behind.
The children, who were reported to be pupils of Bright Benick Academy and Tarkwa UMAT Basic School, were rushed to the Tarkwa Government Hospital and are now reviewing treatment.
The taxi driver did not only hit the children, but also drove into the drinking bar, destroying the wooden structure but none of those in the bar was injured.
DAILY GUIDE gathered that the said taxi driver who injured the school children was later arrested by the police.
Residents of Tarkwa were shocked on May 23, when a taxi driver believed to be in his early 30s, was found brutally murdered on the road leading to the Tarkwa-Nsuaem office of the Driver and Vehicle Licensing Authority (DVLA) at Akyempim, a suburb of Tarkwa.
The assailants, of the deceased later identified as Ernest Essuman, are not yet known.
He was driving a Toyota Corolla taxi cab with registration number GG-3189-19 when the unfortunate incident happened.
It was believed that the alleged murderers might have chartered the taxi cab and succeeded in carrying out the dastardly act before escaping with the car.
The Tarkwa District Police Commander, Chief Supt. Thomas Osei Ababio said when the body was found, there was a deep cut in the throat of the deceased and a knife by his side which the police suspected to be the weapon used in killing the taxi driver.
The police could also not trace the taxi cab.
From Emmanuel Opoku, Takoradi