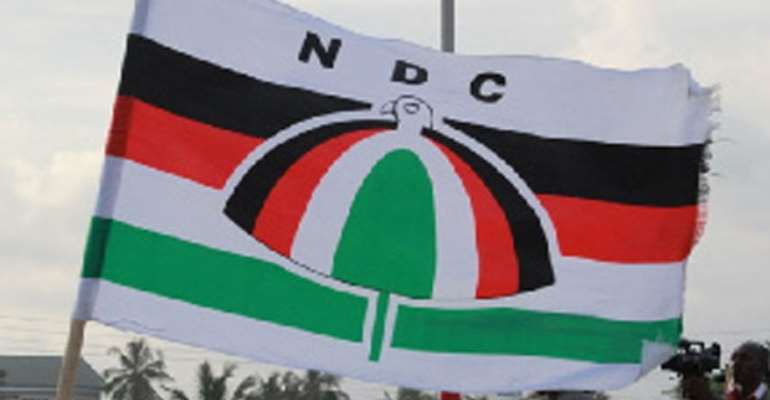 The Evalue Ajomoro Gwira constituency branch of the National Democratic Congress (NDC) has suspended its Constituency Secretary, John Abugri, for congratulating the President's nominee for the position of Municipal Chief Executive (MCE) for the Nzema East Municipality of the Western Region, Dorcas Elizabeth Amoah.
The congratulatory message by the Constituency Secretary of the NDC was contained in a statement dated Sunday, September 19, 2021, with the caption "Appointment of Madam Elizabeth Dorcas Amoah– As First Female MCE for Nzema East, A Step in Right Direction."
The statement signed by the constituency NDC Secretary said "The Evalue -Ajomoro-Gwira Constituency Wing of the NDC wishes to congratulate Madam Dorcas Elizabeth Amoah on her appointment by His Excellency the President, Nana Addo Dankwa Akufo-Addo as the first female MCE for the Chiefs and people of Nzema East."
The statement continued, "The NDC in Evalue-Ajomoro-Gwira will also use this medium to urge her to ensure transparency and accountability in all her duties towards the advancement and well-being of the people.
"We encourage her to collaborate with all respective developmental stakeholders within the municipality especially, the Member of Parliament of the Evalue-Ajomoro-Gwira Constituency, Chiefs, Assembly members and agencies to herald the larger interest of all."
The NDC Constituency Secretary also stated, "We also call on her to use her good office to unite and promote peace among the entire people of the municipality as a mother to help fight for the common goal for all instead of a centered political interest."
John Abugri asserted that the appointment of Dorcas Amoah was a step in the right direction, particularly in the political and developmental dispensation of the municipality as the first woman MCE for the area.
"We once again wish her well in her new endeavours and pray for good health and divine leadership skills to move our municipality which is hobbling for the past four years into a more rapid development hub in the Western Region," the statement added.
He called on the MCE nominee to be transparent and not follow the bad precedents of the outgoing MCE, Frank Okpeyen.
Chairman Not Happy
However, it seems the Evalue-Ajomoro-Gwira Constituency of the NDC did not know anything about the statement from the secretary and has subsequently suspended John Abugri from his position.
In a letter dated Friday, October 1, 2021 and signed by the Constituency Chairman, Emmanuel Ennor Kofi directed John Abugri, the Constituency Secretary, to cease to hold himself as the secretary with immediate effect.
When DAILY GUIDE called the Constituency Chairman of the NDC to comment further on the suspension of John Abugri, he decline to speak saying, "I will not talk."
However, efforts to get Mr.Abugri to react to his alleged suspension proved futile as his phone was off when the paper called.
—Daily Guide