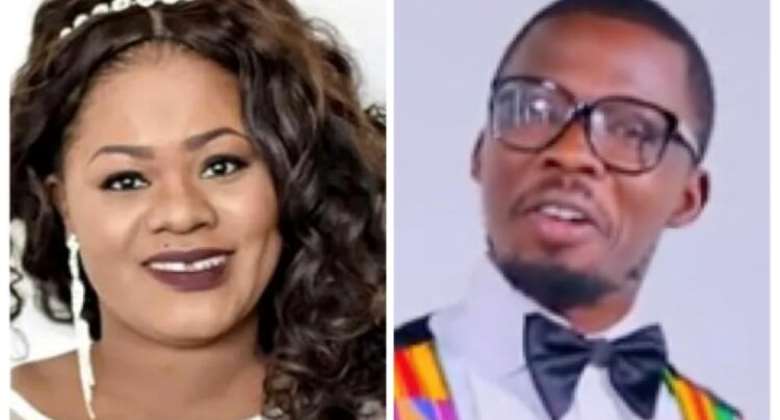 Multiple award-winning Ghanaian gospel diva, Obaapa Christy has found herself in a song theft controversy with her newest single track dubbed 'The Glory.'
Obaapa Christy with nice lyrics dropped the much-awaited new gospel hit on 3rd November 2021.
The song enumerates the amazing mercies of God in our lives and encourages the listener to give Him the Glory.
But this portal is suggesting that per the style of the song and the title, Obaapa Christy took inspiration from the newest hit song of America-based Ghanaian gospel musician MIQ B which is also titled, "All The Glory".
MIQ B's "All The Glory" hit song caution Christians and non-Christians to praise God always and be thankful to Him at all times.
Though Obaapa Christy dropped her song before MIQ B's, this portal is informed that the song was leaked before its intended date of release hence the reason the "Me Mma Me Wurenfi" songstress was able to 'steal' it.
It would be recalled in an exclusive interview on 'JukeBox' – an entertainment show hosted by Nana Adwoa Annan on Atinka TV, where Obaa Christy said she does not pen the lyrics of her songs before recording them.
"I don't write my songs…my new song 'The Glory' i didn't write it …Like putting pen to paper no; even my pen and my book got missing way back…I don't have pen and a book… so I have never written my own songs…the songs just run through my head then I quickly go to the studio and produce it," Obaapa Christy told Nana Adwoa Annan.
The award-winning gospel musician disclosed that ace sound engineer Dan Bassey used to write songs for her but her new single 'The Glory' was done by her.
Well, fans of both artists have the biggest say in this. In view of this, RazzNews.com wants to give our readers that chance to also judge if truly Obaapa Christy 'stole' the song from MIQ B by watching the videos of both songs below