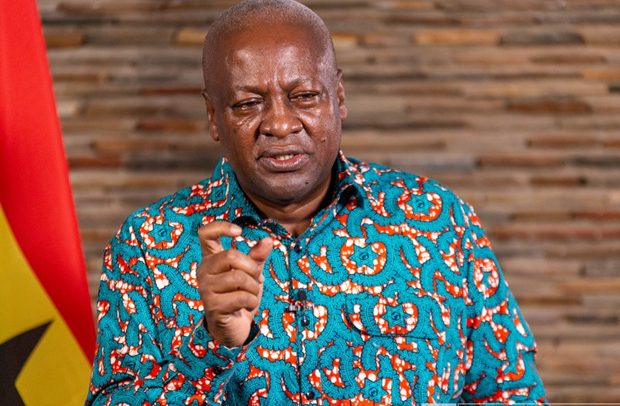 John Mahama
Former President John Dramani Mahama appears to be inciting the public, particularly the youth, to rise up against the New Patriotic Party (NPP) government and even said "the clock is ticking!"
After enjoying the same democratic dispensation for many years, including becoming President, he is now turning around to say that democracy has not benefited the country and called the whole democratic arrangement a ruse.
No Dividends
"The much-heralded democratic dividend is fast turning into a mirage far beyond the reach of the people for whom it was intended," he said.
Mr. Mahama insisted that "our people are beginning to question, whether this whole democratic effort is not only a ruse to grant access to the resources of a country to a few privileged elites to do as they please with it and satisfy their creature comforts to the detriment of the masses who should be the ultimate beneficiaries."
Speaking as a guest of honour at a forum organised by NDC Professionals and a group calling itself Center for Ethical Governance and Administration (CEGA) which also had former Finance Minister Seth Terkper and Sam Pee Yalley on the bill, the former President served the warning that "the clock is ticking, and our people are watching, rather impatiently I must add, to see if we will course-correct and adjust to their demands and begin to drive a new narrative and paradigm, that prioritises working in their collective interest and delivering measurable results that enhance their welfare and resolve their problems."
"The much-heralded democratic dividend is fast turning into a mirage far beyond the reach of the people for whom it was intended.
"There can be no denial of the fact that Ghana is caught in the throes of deep socio-economic problems. Mounting unemployment, affecting millions of our youth, ever declining quality of education, problems with healthcare and agriculture, decaying infrastructure, corruption, weakening and politicisation of state institutions, insecurity and unreliable public services continue to make life very difficult for the average Ghanaian," he said.
Tacit Support
He even patted the backs of those who have been on social media claiming the country should be fixed, saying "the speed with which hundreds of thousands of young people spontaneously took over social media and demanded that this country be fixed is a cautionary tale on how exactly the people feel about the way this county is being governed.
"Rather than cynically scoffing at these calls, ascribing political motives to them, and pretending that the genuine cry for help from our citizens is the figment of the imagination of some political leaders, we should be lending a listening ear to these young people and indeed the general population."
Free SHS & Agenda 111
He said specifically that the NPP has reduced the country's problems to slogans like Free SHS which has put over 1.2 million children into secondary schools to study for free and Agenda 111 which is seeking to bring hospitals to all districts in the country and upgrade other health facilities to cater for the health needs of the people.
He appeared to say that the pro-poor initiatives would bring problems for the country in future.
"The problems facing our country and the solutions to them cannot be reduced to a handful of fancy slogans and poorly conceived and implemented half-measures aimed at obtaining short-lived political gratification only to have them inflict deeper socio-economic wounds on our country and leave more problems than they resolve," Mr. Mahama said.
He insisted that "governance is not about empty sloganeering and PR stunts. It should be about methodical steps that are well-conceived and thought through to address our problems holistically and permanently. It should be about crafting and rolling out a vision that transforms society in meaningful ways which clearly benefit all our people."
Senchi Love
He also reconnected his love for Senchi where he once organised a forum to deliberate on the economic fortunes of the country when he was President, and appeared not to understand why the NPP administration is refusing to hold a similar forum.
"The seemingly intractable problems we face and the vicious cycle they continue to perpetuate, should compel us to create room for more consultation and deliberation among competing political forces and ideologies as we demonstrated when we convened the Senchi economic forum leading to the formulation of Senchi Consensus," he said.
"Sitting with political opponents to find common ground and thinking through national problems is not an admission of defeat nor helplessness. It is a demonstration of maturity and statesmanship, oozing out of a shared desire to see our nation progress irrespective of the colour of those who govern at a particular point in time," he added.
More Attacks
Mr. Mahama said that the NPP administration is using the COVID-19 pandemic to hide ineptitude and claimed that he left favourable economic conditions when he was defeated in 2016.
"Despite these favourable conditions, most of the gains we made and bequeathed to this government have been eroded and we have been plunged into further economic crisis. COVID-19 has become the convenient whipping boy and has been cited as the reason for the crisis we face now and the attendant economic hardships.
"Yes, COVID-19 affected the economy, and no one can dispute that. It is however not the main reason why we are in the current hole we find ourselves. COVID-19 only became a pretext for reckless election related spending, which produced the largest ever budget deficit in the recent economic history of Ghana last year," he stated.
He said "this government must accept that it is their mismanagement of the economy, their thirst for consumption expenditure and the desire to spend beyond our means in order to win elections that have plunged us into the current crisis, not necessarily COVID-19. This has been the luckiest government under the fourth republic.
"Those who govern are but temporary employees of the people of Ghana. They will change from time to time depending on the mood of the electorate, but our country must progress no matter who goes into or comes out of government. We in the NDC stand prepared to engage in fruitful national dialogue aimed at finding concrete solutions to our most pressing problems. Polarisation, extreme partisanship, and the zero-sum approach to governance only serve to hurt our people more."
By Ernest Kofi Adu