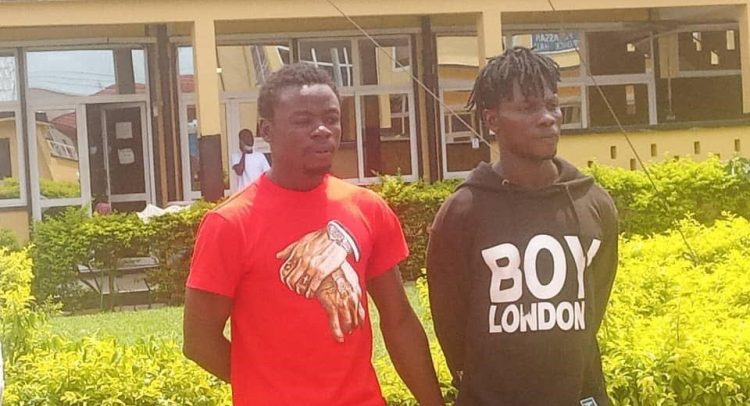 The suspects
The three gun-wielding young men whose video went viral on social media shortly after the Adedenkpo bullion van attack have been arrested.
The video, which showed them speaking a language which sounded like Dagari, but ended up with Akan, caused such anguish among many Ghanaians coming on the heels of the bloody attack on the bullion which claimed the lives of a young constable and a petty trader, Efua Badu.
According to reports, the three persons were arrested in Obuasi where they reside.
Following the angst of Ghanaians after the video, they posted another one stating that they are no armed robbers as was being said about them.
Many asked what they sought to achieve by such unnecessary show of bravado especially after a high profile armed robbery attack.
The police have not charged them yet and it is unknown what they could be possibly charged with given the fact that the weapons they wielded were licensed.
After their arrest, statements have been taken from them, a standard procedure when suspects are brought into police custody.
DAILY GUIDE had gathered earlier that the suspects were illegal miners in the Upper West Region but who have now relocated to Obuasi in the Ashanti Region.
They reportedly claimed that they seized the firearms from another group which attacked their mining location in Wa, the Upper Regional capital, earlier.
A fourth person is being hunted by the Ashanti Regional Police after retrieving the weapons, one of which is a pump action gun, as they conduct an investigation into their action.
The Deputy Ashanti Regional Police Commander, DCOP David Agyemang Adjem, while speaking to journalists following the arrest, asked for the support of the public in the ongoing investigation.
"These young men have been variously described as robbers in both the print and radio, as well as on social media. These three men are in our custody in relation to the video and pictures we have seen. We have retrieved the pump-action gun, as you can see. There is a fourth suspect whom we are trying to also arrest.
"We will keep them in custody as we investigate the issue. They have denied, as you have seen in other videos, that they are criminals, and so the Command would like to appeal to anybody, for that matter, the public, especially those who allege any criminal activity against these young men, to come forward, give us information so that we can put them before the court."
Another image which fueled public angst was the display of wads of Ghanaian currency by the gang.
Only investigation will reveal the nature of the occupation of the gang. It will be instructive to know how the young men registered the firearms which they displayed so foolishly and arrogantly.
By A.R. Gomda