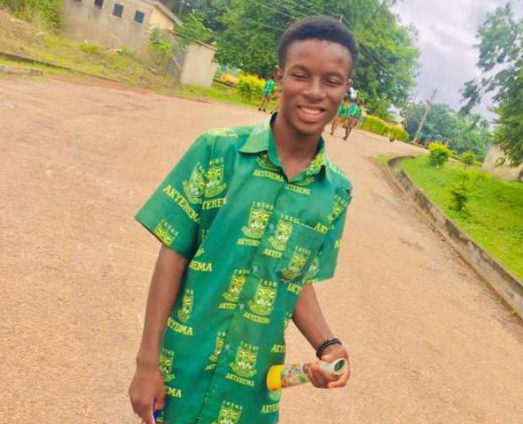 Police have launched investigations into the death of a final year student at Tweneboah Kodua Senior High School in the Sekyere-Kumawu District of the Ashanti region.
Edward Duut, 19 years, is alleged to have scaled a wall to avoid a routine check by a Prep Master, but landed with his chest on the ground, injuring himself on Monday at about 11 P.M.
He later died at the nearby Kumawu Polyclinic after been rushed there by the headmaster with the support of some students.
Nhyira News sources say Edward and other final year students jumped the wall to avoid being caught by a Prep Master on his routine checks on students.
The students who were expected to be studying in classrooms run helter-skelter around 8:40pm when they heard the arrival of their teacher, one Gideon Osei, also known as 'Ogidi' the Prep Master.
Sources say the deceased, who had just woken up from sleep, jumped over a wall but could not land well on the ground floor of the building and sustained injuries.
He was rushed to Kumawu Polyclinic at 1:00am where he was pronounced dead.
Sekyere- Kumawu District Police Commander, DSP Opoku Agyeman Prempeh tells Nhyira FM no one has been arrested in connection with the death as police have taken statements from teachers in the school.
"Gideon Osei, alias Ogidi, a tutor and a prep master of Tweneboa Koduah SeniorHigh School was on his routine checks on the students. That, on reaching House Three Dormitory, some final year students, including Edward Duut aged about 19-years scaled a wall and fell down.
He was rushed to Kumasi Government Polyclinic for medical treatment by the headmaster with the help of some students.
The victim died later whilst on admission," he explained.
"Nobody was picked as a suspect. But when we collect statements from them, then what is hidden would be revealed," DSP Agyemang added.
The Police say investigations are ongoing to ascertain the cause of death of the General Arts final year student who hails from Ejura in the Ashanti region.
"Post-mortem examination would be performed on the body of the deceased to know the cause of death".