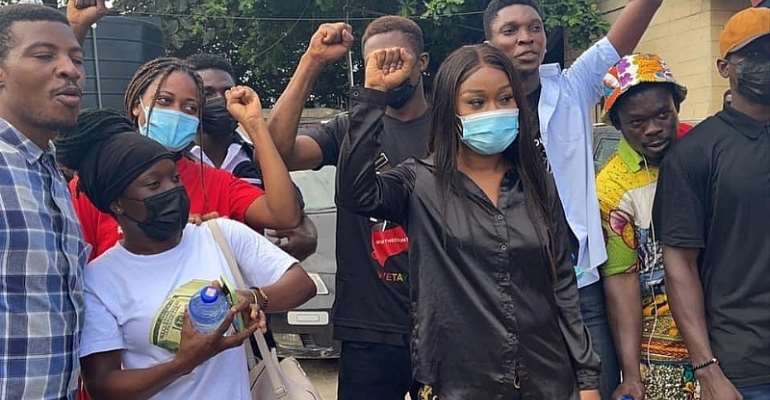 Some 15 members of the #FixTheCountry movement including socialite Efia Odo have been released.
There was no reason for their arrest today.
According to information gathered, Efia Odo and several advocates of the campaign massed up at the entrance of the Law Court Complex premises of the Accra High Court.
While it is unclear why they were arrested, pictures taken have revealed that some of them were wielding placards.
Information picked up indicates that the Director of Operations at the Accra Regional Police Command led a team of officers to initiate the arrest.
Campaigners of the FixTheCountry protest in the last few weeks have been in Court to overturn an injunction secured by the Ghana Police Service.
Today, lawyers of the FixTheCountry conveners were in Court as well as representatives of the Ghana Police Service.
The Criminal Division of the Accra High Court presided over by Justice Ruby Aryeetey has ruled that the application restraining the #FixtheCountry protesters was moot.
The court said the application before the court was premised on the letter for the respondents not to demonstrate on May 9 and such date has long passed.
To this end, the application was struck out by the court as "moot."
But, the court said, in the event that the conveners want to demonstrate, they "have to go through the law anytime they want to embark on a demonstration."