By Kwame Okoampa-Ahoofe, Jr., Ph.D.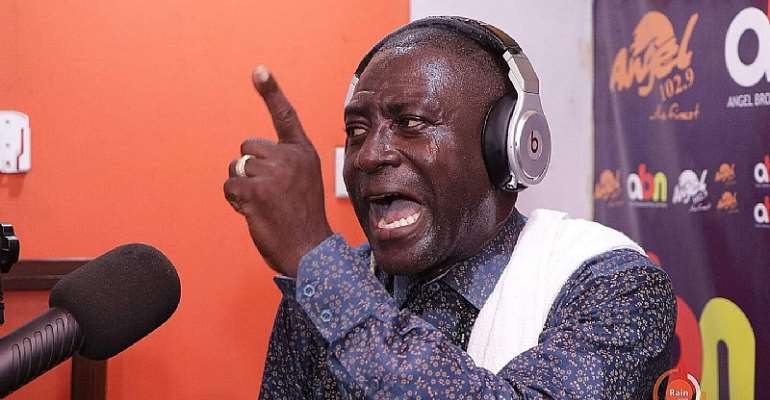 I have written another article on this very subject which may be published by the time that the Dear Reader comes across the present one, in which I backtrack just a little bit by diplomatically suggesting that Captain Smart, the recently suspended Angel-FM radio program host, could have finetuned his rather intemperate torrents of tirades against the leaders of the Akufo-Addo-led government of the New Patriotic Party (NPP). I still maintain this stance. You see, just because we live in a constitutionally democratic political dispensation, in which each and every Ghanaian citizen, irrespective of class status or access to political power and wealth or familial and ethnic affiliation, has a constitutionally inalienable right to free and unfettered speech, does not mean that the intemperate use of language on our broadcast airwaves ought to be indiscriminately tolerated ad nauseam (See "Angel FM Suspends Captain Smart" DailyGuideNetwork.com 5/6/21).
Now, I don't know that the locally renowned political and current affairs program host of the Angel-FM broadcast network is a professionally trained journalist or mass communicator, because Captain Smart does not seem to exude this aspect of the requisite professionalism that ought to attend his media fare. You see, it is not merely or simply a question about the raw content of what any broadcaster has to say, impart or disseminate for the ready consumption of the general public and, in the particular case of the suspended nephew of former President John Agyekum-Kufuor, his apparent primary audience of the leadership and national-policy executors of this country. We unreservedly give Captain Smart credit for expressing the deepest frustrations of all Ghanaian citizens directly affected by and deeply concerned with the massive and deadly toll that the criminal activities of Galamseyers are wreaking on our beloved nation, with the staunch and public backing of former President John Dramani Mahama.
We may not be fully in the know about the humongous loss of lives that Galamsey or illegal small-scale mining may have already wrought on our land, in particular the untold loss of human lives. The Center for Scientific and Industrial Research (CSIR) and its institutional allies and affiliates ought to be forthcoming in this sphere of cutting-edge knowledge production on our national life and existence. We also need to promptly know the level and toll of losses that have, so far, been wrought or registered on our animal and plant species and waterbodies. These are the sort of data and existential variables that ought to foreground all our national conversations on the kind of ecological apocalypse presently facing our nation and the future of our children and grandchildren.
When Captain Smart intones that on the emergency situation of Galamsey and its pernicious impact, "Charity Must Begin at Home," he has not absolutely in any way said anything wrong or inexcusably offensive. You see, just a little over a fortnight ago, as of this writing, The Okyenhene, His Royal Majesty, Osagyefo Amoatia Ofori-Panyin, II, and his key cabinet members of the Akyem-Abuakwa Traditional Council (AATC) literally besieged Jubilee House, that is, the Presidency, and bitterly complained to President Addo Dankwa Akufo-Addo that they could no longer tolerate the irreparably devastating toll that illegal small-scale mining or Galamsey was taking on their ancestral lands, waterbodies and forestry resources. Led by the Gyaasehene of Akyem-Abuakwa, Daasebre Ayimadu Kantamanto, of Akyem-Kwabeng, if memory serves yours truly accurately, The Okyenhene expressed essentially the same sentiments that Captain Smart had expressed on his very popular program that, rather sadly, led to his summary suspension from the Angel-FM radio station.
Well, the salient difference between what the Addo-Kufuor nephew and Daasebre Ayimadu Kantamanto, deputizing for Osagyefo Amoatia Ofori-Panyin, said had to do with the degree of "decibel politeness." Both speakers let it be known to President Addo Dankwa Akufo-Addo in no uncertain terms that, if his government responded too slowly to their very solemn and long overdue request to promptly and effectively ban all small-scale mining activities, legal or illegal, these legitimately invested traditional rulers would be left with no other recourse but to literally take the law into their own hands the best way that they knew how. Captain Smart did not go this far, except to imply that Nana Akufo-Addo's publicly proclaimed Galamsey fight could not be taken seriously, unless he could be also seen to be seriously fighting the untold havoc caused by Galamsey in his own ancestral "backyard" and homeland of Kyebi.
You see, whether the River Birem is the only waterbody in Ghana which is routinely appellated or praised with the name and identity of the Akan sub-polity of which President Akufo-Addo is a bona fide scion or member is absolutely irrelevant, even as the equally renowned television talk-show host Mr. Paul Adom-Otchere, of "Good Evening, Ghana!" fame, had occasion to remind Captain Smart in the wake of the latter's suspension from Angel-FM Radio. Rather, what is significant is that Captain Smart ought to have more poignantly focused on the predatory destructiveness that is Galamsey, in general, and not rather rudely and intemperately make it seem as if Galamsey was the unique and exclusive problem of any single or particular ethnic group or sub-ethnic polity in the country.
The hope here is that Captain Smart would profitably, meaningfully and constructively use this period or hiatus of his clearly well-deserved suspension to therapeutically do some critical thinking on how to more effectively contribute his quota to our national development efforts without becoming an avoidable hindrance in the process.
*Visit my blog at: KwameOkoampaAhoofe@modernghana.com
By Kwame Okoampa-Ahoofe, Jr., PhD
English Department, SUNY-Nassau
Garden City, New York
May 10, 2021
E-mail: okoampaahoofe@optimum.net
Kwame Okoampa-Ahoofe, Jr., Ph.D., © 2021