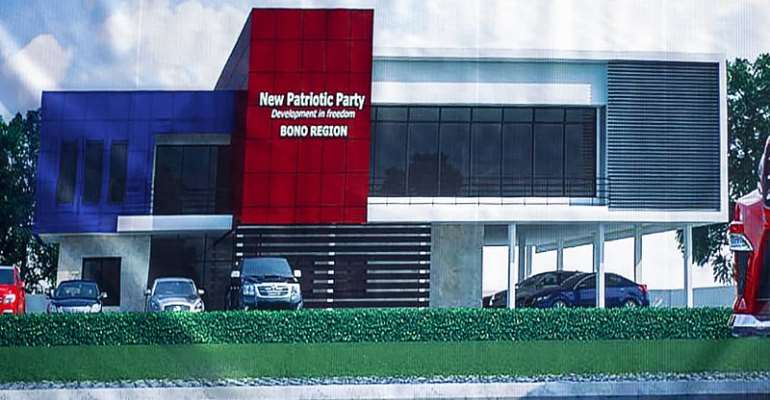 The Vice President, Dr Alhaji Mahamudu Bawumia and a host of others have been making some donations toward the construction of a multi-purpose office building for the Bono Regional secretariat of the ruling New Patriotic Party (NPP).
At party's Bono Regional delegates conference held over the weekend in Sunyani, the Vice-President, who was represented by Fred Oware, a former CEO of the Bui Power Authority donated GHS20,000.00 cash and 1,000 bags of cement towards the project.
Mr Fred Oware made the presentation to the Bono Regional Secretariat of the party at the Regional Delegates Conference held in Sunyani on Friday.
Mr. Fred Oware, speaking on behalf of the Vice-President, described Dr. Bawumia as a very generous person who is committed to supporting the party in diverse ways.
He explained that winning the next general elections requires a well-coordinated effort and charged the rank and file of the party to remain united in their quest to remain in power.
The Bono Regional Chairman of the party, Kwame Baffoe Abronye said the project when completed would satisfy the long desires of the party to have enough working space to operate.
He underscored the need for party faithful to continue to invest in the provision of infrastructure and other relevant logistics needed to enhance operations of the NPP on its shoulders, they rode to success.
Chairman Abronye said the NPP can win the 2024 polls and break the 8-year political cycle if it is able to tackle indiscipline, decrying that indiscipline and other unacceptable conduct by members must be checked and the leadership of the party in the region will not hesitate to crack the whip when necessary.
The Minister of Trade and Industry, Allan Kyeremanteng, who was also represented at the event, supported the project with one thousand bags of cement.
Almost all the dignitaries at the event, which was also used to cut the sod for the commencement of the proposed NPP regional office, made various donations towards the project and pledged their commitment toward its successful completion.
Present at the occasion were Mr. John Boadu, the General Secretary of the party; Rita Asobayere 1st Vice Chairperson; National Treasurer, Mr. Abankwa Yeboah; Mr. Henry Nana Boakye, the National Youth Organiser; the Bono Regional Minister, Justina Owusu-Banahene; the Deputy Attorney-General and Deputy Minister of Justice, Alfred Tuah-Yeboah and Joe Danquah, CEO of Middle Belt Development Authority. (rboahen2018@gmail.com)
Richard Kofi Boahen
Brong Ahafo Regional Contributor