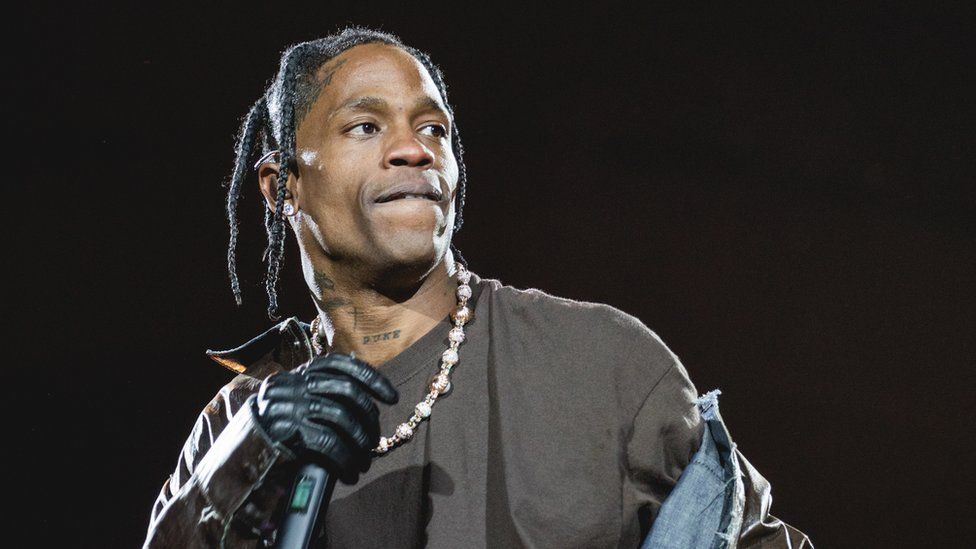 A nine-year-old boy placed in an induced coma after a crowd surge at the Astroworld festival in Houston, Texas, has died, a family lawyer says.
Ezra Blount had been on life support in hospital due to severe brain and organ trauma since the show on 5 November.
He is the youngest of 10 concertgoers to have been killed after panic broke out during rapper Travis Scott's headline performance.
Hundreds of others were hurt when the crowd began to press towards the stage.
Attorneys representing more than 200 people claiming they were injured in the stampede told reporters on Friday they were filing another 90 lawsuits against the promoters of the event.
On Sunday, a lawyer for the family of Ezra Blount confirmed the boy's death.
"Ezra's death is absolutely heartbreaking," civil rights attorney Ben Crump said in a statement. "This should not have been the outcome of taking their son to a concert."
In an earlier interview with local news outlet ABC13, Ezra's father Treston Blount said he was "not ready to lose my boy". "We still got a bunch of living to do," he said, describing how his son was a huge Scott fan who was "stoked" ahead of the performance.
Houston Mayor Sylvester Turner said he was "saddened to learn of Ezra's death".
View original tweet on Twitter
The crowd surge at the concert began at about 21:15 local time on Friday, 5 November. There were about 50,000 people at the festival at the city's NRG Park complex.
As the crush began causing injuries to people, panic grew and the casualties quickly overwhelmed the on-site first aiders, officials said.
Investigators are reviewing video from the scene to explore the causes of the surge and what had prevented people from being able to escape. They are also working to interview victims and witnesses.
Those who lost their lives were aged between nine and 27.https://emp.bbc.com/emp/SMPj/2.44.3/iframe.htmlMedia caption,"I'm honestly just devastated" – Travis Scott posted this video on Instagram
Scott, one of the biggest names in rap music, launched Astroworld with concert promoters Live Nation in 2018.
He has asked victims to reach out to him, saying he "desperately wishes to share his condolences and provide aid", according to a statement.
Police said the victims were crushed in a surge of fans near the stage at around 21:30 local time.
Scott continued to perform for almost 40 minutes longer, eventually ending the set about 15 to 20 minutes ahead of the advertised time.
Last week, Houston fire chief Samuel Peña said that Scott should have halted the show more quickly.
"At one point there was an ambulance that was trying to make its way through the crowd. The artist has command of that crowd," Mr Peña told NBC's Today show.