'So often women are gaslit by celebrities about what it takes to look like them… If I have a facelift I'm gonna let everybody know.'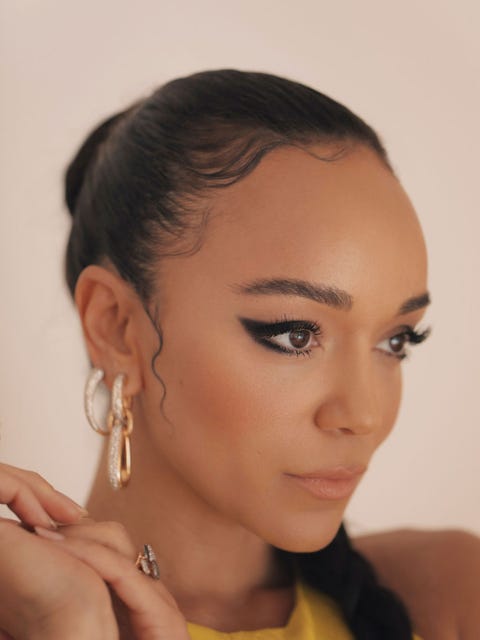 ELIAS TAHAN FOR LANCÔME
Watching Ashley Madekwe's BAFTA-nominated performance as the no-nonsense, desperately overworked single mum of two, Toni, in County Lines, you'd be forgiven for thinking the world of Hollywood glamour and virtual award shows were a million miles away from what you're seeing on screen. A testament to Madekwe's acting prowess. But, when she's not performing the hell out of a gritty film role, the British actor is all about using the world of fashion and beauty to express herself. 'One of my favourite looks was when I went to the punk themed Met Ball. It was a really directional look and I wore a wig which I don't often do,' she admits.
Having worked her way through TV roles in Secret Diary Of A Call Girl and Revenge, the Londoner earned herself a BAFTA Best Supporting Actress nomination for her latest on-screen appearance. As the troubled Toni, hair and make-up couldn't be further down the to do list, but as Ashley, taking the time to do a little preening is a source of joy.
'The best beauty advice I've ever received is from Wendy Rowe, who's a make-up artist and a friend of mine,' Madekwe tells ELLE UK ahead of the virtual awards ceremony, which took place over the weekend. 'She did my make-up for my wedding and told me to stop tweezing my eyebrows before the day. I managed to grow them a little but not enough. Now, if I look at those pictures I'm like "Gosh, I wish I'd started growing them back in earlier".'
Before the BAFTAs we chatted to Madekwe about Helen Mirren, DIY make-up fails, and why she'll never do a juice cleanse ever again…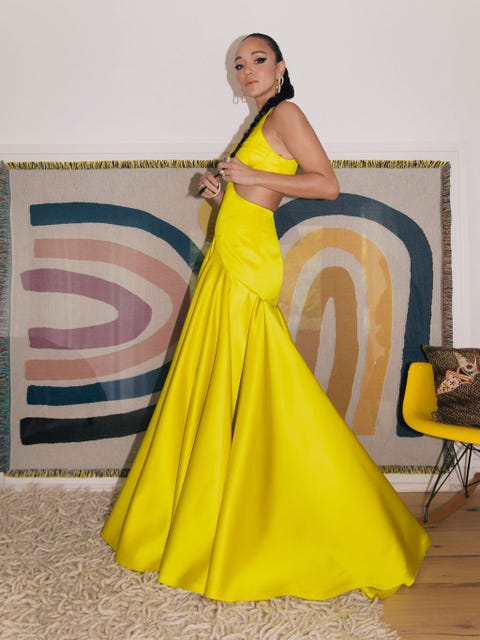 ELIAS TAHAN FOR LANCÔME
How is getting ready for a virtual BAFTAs different to hitting the red carpet?
'I do enjoy that with virtual award [ceremonies] I can control my own environment. I don't have to worry about the dress moving weirdly or not being placed perfectly on the red carpet. But, on the flip side, I miss the excitement of the red carpet and having the photographs in front of you, there's a great energy that comes from that.
'On the beauty side of things, I let the professionals do their job, for sure. The week before a big event I'll make sure I'm drinking water and try not to eat junk food. I might have a facial but I'll book it for a good week before in case my skin freaks out. I did get my hair coloured for the BAFTAs because it was way overdue. It hadn't been dyed in a really long time because of the pandemic. I had grey hairs that I did not want for the BAFTAs! Afterwards I felt like a new woman.'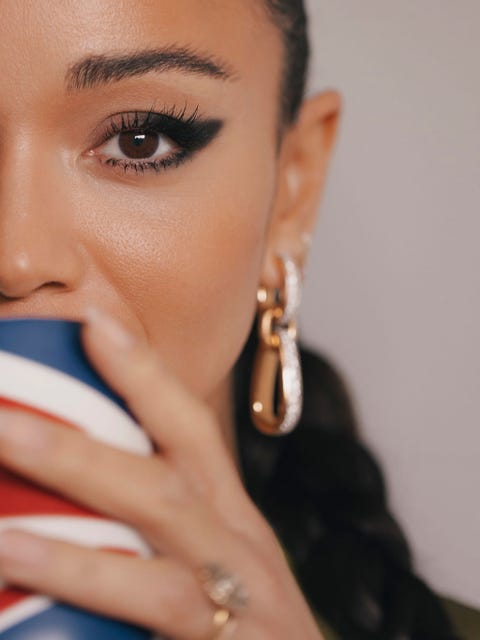 ELIAS TAHAN FOR LANCÔME
What's the most extreme treatment you've tried before an awards?
'When I was much, much younger, like 10 years ago, I did a juice cleanse which I would never do again. Now I think about it, it's so ridiculous. It was three days of drinking sugary juices – it was awful. I thought it would help me look slender and lose water weight and that I'd look great in my outfit but I was just hungry and miserable. I would never do that again.'
Talk us through your BAFTAs look…
'I wanted to look powerful and the dress is that – it's got a lot of structure to it. It's a great colour as well. I didn't want to wear blue or black or be too serious, I just wanted to look powerful, joyful and like a strong woman. I love collaborating with hair and make-up artists to channel that vibe in the beauty as well. I'm thinking of doing something with my baby hairs – I love embracing who I am. Make-up wise I want to look like the most gorgeous version of myself but I still want to be able to see my face.'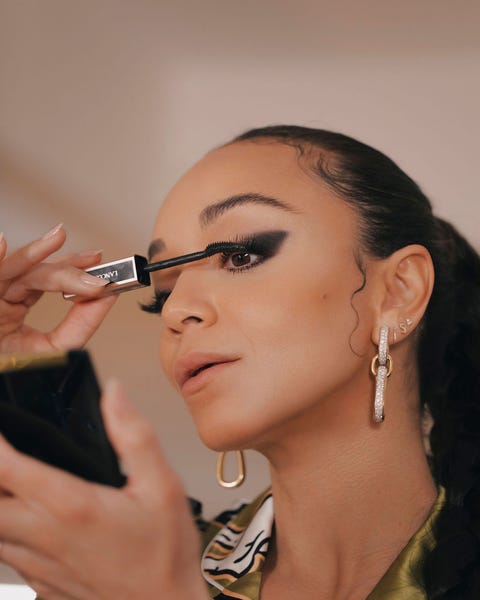 ELIAS TAHAN FOR LANCÔME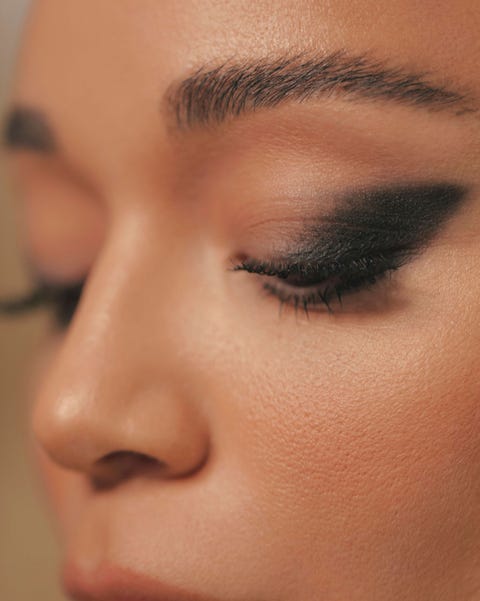 ELIAS TAHAN FOR LANCÔME
Which part of your beauty routine have you perfected?
'Eyeliner. I used to work in a make-up shop and I would do my eyeliner on the tube. If you can do your make-up on the Northern line you can do it anywhere! Generally, I'm pretty good at doing my own make-up, I can't "beat" my face or do the contouring and all that, but I have done my own make-up for red carpet events before. Sometimes I prefer to do it just because of speed, it's quicker to do it yourself and I like the ritual of it – getting all my make-up out, doing my skincare and my hair… I quite enjoy the process.
'Years ago I went to an event for Revenge and I did my own hair and make-up. I looked fine but when I got there they had a make-up artist powder me about seven shades too light for my skin tone. Under the lights I looked like a ghost. That was definitely a regretful moment.'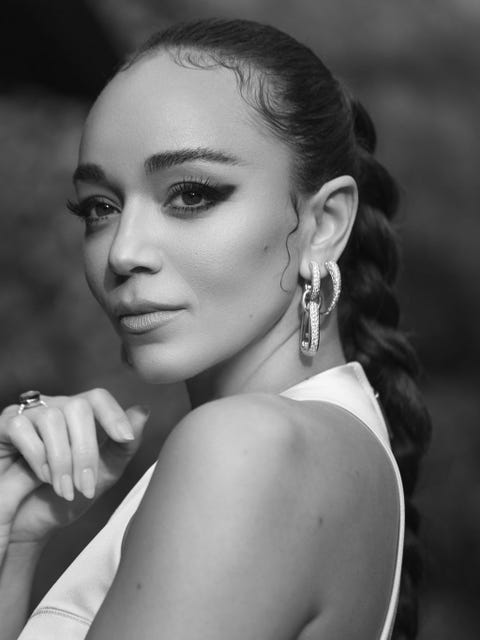 ELIAS TAHAN FOR LANCÔME
What does 'beauty' mean to you?
'I'm really inspired by women that have grace in their beauty. I think Thandiwe Newton is just an angel on earth and so elegant. Helen Mirren is really beautiful – there's a confidence to her. I love women that seem effortless, like Sade, oh my goodness…
'It's really important that we see a variety of beauty standards. I don't think you can overstate the importance of representation. It's incredibly validating to see a version of yourself on screen or on stage, it makes you feel like you belong. If you don't see anyone that looks like you, it can be really damaging – it makes you think you're not good enough.'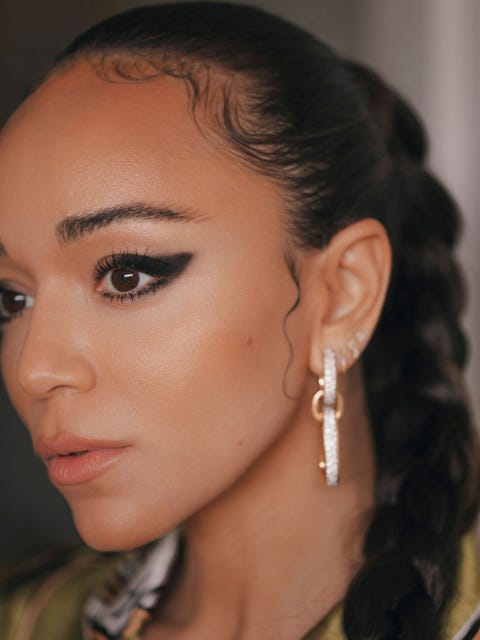 ELIAS TAHAN FOR LANCÔME
Do you feel pressure to look 'youthful' as a woman in Hollywood?
'I remember being younger and thinking "I would never do anything to my face, I never need to colour my hair" etc. But, as I've got older, I'm more empathetic to women who want to do that because there is a lot of pressure.
'I do think that the mystery behind what we do to stay looking fresh should be taken away. I think we should level the playing field a little bit. Just saying "I drink water and I get eight hours of sleep a night" isn't particularly helpful, let's be honest. If you have laser peels, say you have laser peels. If you've had a facelift, say you've had a facelift. I think it's damaging to lie. So often women are gaslit by celebrities about what it takes to look like them and I think it's unfair. So I'm going to try to be open and honest about it. If I have a facelift I'm gonna let everybody know.'This content is imported from Instagram. You may be able to find the same content in another format, or you may be able to find more information, at their web site.
Get Ashley's Smokey Sixties Make-Up
'I wanted Ashley to have a strong look – drawing attention to her eyes,' says make-up artist Jo Baker. 'I wanted to play with the much-loved flattering combo of charred noir paired with soft pretty pink. A timeless palette with a strong modern edge.'
SOURCE: elle.com