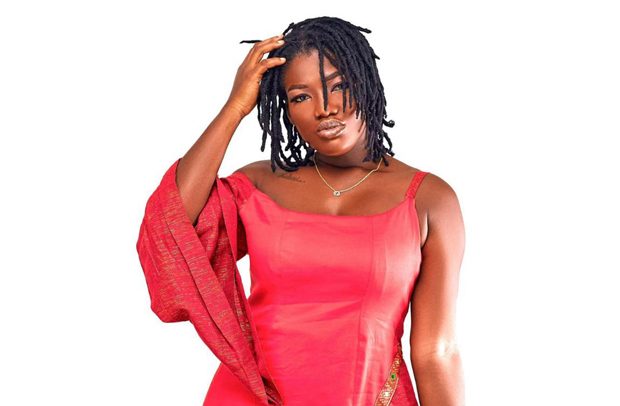 iOna Reine
Over the weekend, Abena Korkor gave a tall list of some influential men who have allegedly been warming her bed.
Fast-rising female highlife artiste, Abena Onuawonto Sam, popularly known as iOna Reine, has called on Ghanaians to show support and love to former TV3 presenter and mental health advocate, Abena Korkor, to overcome her bipolar disorder.
Abena, who appeared in a live Instagram video, mentioned several well-known men with whom she had slept with.
But female highlife artiste, iOna Reine, who doubles as a health worker, in a Tweet urged Ghanaians to show some support to Abena Korkor whenever she has a manic episode, instead of the trolls and posting her videos for likes and coins on YouTube.
She wrote, "Instead of posting Abena Korkor's videos for likes and coins on YouTube let's come together and help a sister in need please, she needs our love and support. #helpabenakorkor #mentalhealthproblemsarereal."
In a phone conversation with BEATWAVES, iOna Reine also called on the Inspector General of Police (IGP), James Oppong Boanuh, and the family to provide security for Abena Korkor to overcome her bipolar disorder.
She said, "I think the IGP and family of Abena Korkor and friends must provide security for our sister. As a nurse, I believe that the more she gets people around her the more she recovers from her illness."
She added, "Am also calling on the management of Media General to reconsider their decision and hire Abena Korkor again to keep her busy and active all the time."
In 2015, Abena Korkor who has reportedly been suffering from bipolar disorder, gained popularity after releasing her nudes. She then subsequently put out names of men she claimed she had slept with, including politicians, and TV & Radio presenters, making her a social media sensation.
Reports at the time suggested that her actions were out of bipolar disorder. She later got a job at TV3, among other objectives to promote her advocacy for mental health, but she was recently sacked.
BY Prince Fiifi Yorke