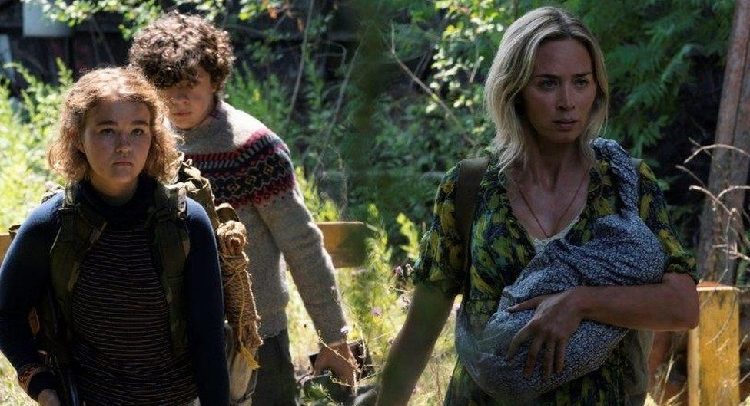 Millicent Simmonds, Noah Jupe and Emily Blunt star in A Quiet Place Part II
'A Quiet Place' Part II has become the first film released since the start of the Covid-19 pandemic to make more than $100m at the US and Canada box office.
The symbolic feat will reassure cinema owners and exhibitors as they seek to rebound from the pandemic's devastating impact on their business.
The sequel to John Krasinski's 2018 hit has now made $109m (£77m) domestically and $90m (£63m) overseas.
It was originally set to open last year before eventually opening in May.
The film stars Emily Blunt and is set in a world where humans have been hunted to near-extinction by predatory blind aliens.
The aliens are highly sensitive to sound, which means the few remaining humans must stay as quiet as possible to avoid detection.
Box office takings continue to lag behind those of previous years due to a number of contributory factors.
They include audience hesitancy, particularly among older cinemagoers, and competition from streaming services.
The latter may have been a factor in the disappointing numbers posted by the film version of Lin-Manuel Miranda's musical 'In the Heights'.
The film, which opened in cinemas on the same day it was launched on the HBO Max streaming service, took in $11.4m (£8m) in its opening weekend.
-BBC