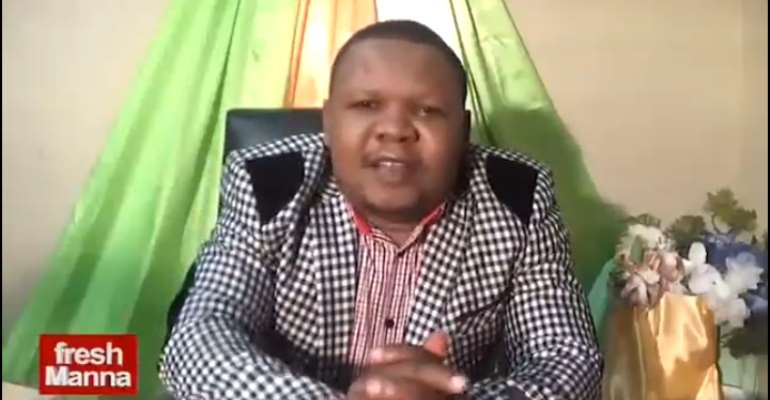 Apostle Ambe Valentine Ngwa has said most men who physically abuse women is usually a response to emotional abuse by their female partner.
Even though it is not right, he said, 80% of men do so when they are emotionally hurt or irritated by their female partners to the point that they can never tolerate it.
"Men at times are not mad to start beating a woman. No reasonable, responsible man would just stand and start beating a woman. There are exceptions to this but I can guarantee to you that about eighty percent (80%) of men's abuse towards women is a response to emotional abuse from the woman," he posited.
Apostle Ambe added, "abuse comes in different shapes or forms but physical abuse in most relationships comes from men towards their spouses for all manner of reasons. Inasmuch as, it isn't right, they occur in some homes and it generates debate from time to time."
He said, "Men are the quiet type and women are flippant. Women are flippant in nature. They talk a lot".
According to him, anytime a man does something that his spouse or partner doesn't understand, the woman begins to talk alot. "Women don't talk for you to listen but they speak for you to respond. Once they speak and you don't respond, they say something harder than what they have said already.
"Once they keep uttering such hard words into your heart that are not pleasing to you, there is a level at which any man can accommodate such words. There are men when they have absorbed that shock for too much they cannot contain it, the next thing is to rebound".
This, according to Apostle Ambe is where the man slaps and kicks the woman.
Apostle Ambe stressed when that happens and people come around, all they see is the slap and kick which are physical manifestations of the man's actions but are unable to see or measure the emotional torture the man had to withstand all this while.
"Sometimes men can contain this torture for almost ten years. Some hold it for 15 years. At some point, the man feels like this physical abuse or as I call it physical discipline is what can solve something his quietness cannot solve," he intimated.
He was speaking on the "Prime Hour" show on the topic "Understanding and Managing Extreme Abuses in a Relationship and Marriage" monitored on Facebook page dubbed "My Media Prime".
Another reason why some men physically abuse their wives Apostle Ambe indicated is that, "Women can easily lose the respect they have for men".
He continued, "A man's desire is not food. Cook the best food, he can get it in a restaurant. A man's desire is not sex, he can get it on the street through a side chick. A man's desire is not your attire. The greatest thing you will ever take from a man that would cause the beast in him to come out, is his respect.
"Respect is something men hold dear and women who normally gain the attention of their men are those who know the nuances of how to respect a man.
To this, Apostle Ambe noted that, "Inherent in every man is a king and a beast. If you chose to be a queen you will bring out the king in him. If you will be a torment, you bring out the beast in him."
He stressed that, "All over the world and across all cultures, what every man abhors is disrespect. Some women are grossly disrespectful. This might have come about due to education and the so called women empowerment campaigns going round all over the world.
"I can tell you with all sincerity that, the marriages before this period are far more better. There were no marriage seminars, there were no conferences, there were no lectures on marriage but the marriages succeeded better because people were properly born of a good culture".
He noted that woman emancipation has not been properly communicated and well contextualised and as such most women see having their place in the male dominant environment as competing with men.
"This erroneous impression women have about emancipation must stop. Women emancipation is the ability and liberation for women to enter into governance and not to dominate in marriage.
"The women emancipation concept must be properly defined and re-drilled again in the minds of women because some women have taken women emancipation or gender equality into marriage. Women emancipation has come to teach our women that, women have equal rights and freedoms which has not been properly explained.
"This has gone into the heads of some women into thinking that since women can be President's, they can also be husbands.
"Yes women can be presidents, women can be governors but a woman can never be a husband. Husband is not a position, husband is not a rank, husband is not an office, husband is an ordained responsibility," he affirmed.
Apostle Ambe Valentine Ngwa underscored that, there are standards in marriage no generation in any human race can ignore. "The woman is to submit to a man and the man is to love the woman. That is the standard. A place where irrespective of the educational status of women, position or wealth, they shall submit to their husbands and emotional abuses against them shall subside."
Kwame Kwakye
A Broadcast Journalist