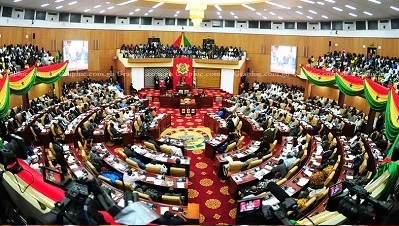 The Majority Caucus in Ghana's Parliament says claims that the 2022 Budget Statement and Economicc Policy of Government has been rejected is totally unfounded.
According to the parliamentarians, the decision of the Speaker, Alban S.K. Bagbin to endorse the act of the Minority constitutes unconstitutionality and illegality.
They therefore asked Ghanaians and General public to disregard the claim that the 2022 budget has been rejected because it is void and of no effects.
It would be recalled that Parliament allegedly rejected the 2022 budget statement presented on behalf of President Nana Addo Dankwa Akufo-Addo by his Finance Minister, Ken Ofori-Atta, on Wednesday, November 17,2021
The Majority members staged a walkout during proceedings on Friday, November 26,2021 but that did not stop the Speaker, Alban Bagbin, from ruling on the motion.
He had given a five-minute break for the Majority members to resume their seats.
But after the time elapsed, Mr Bagbin ruled that the budget has been rejected after the members present overwhelmingly shouted 'No'.
However a statement issued by the Majority Caucus in Parliament, the subsequent day, asked the public to disregard the decision by the Speaker that 137 MPs have power to take decision for Parliament and have consequently rejected the 2022 budget.
"Article 104 of the 1992 Constitution and Order 109 Standing Order are very clear. The two provisions, read together, and require that at least 138 needed to have been present in the Chambers at the time of the purported vote. Therefore the claim that tbe budget had been rejected by 137 members of the House is null and void and of no effect because same is unconstitutional.
"Majority finds it unfortunate that after making request to the Finance Minister to reconsider some items in the budget statement, Minority Caucus assisted by Speaker Bagbin who had earlier indicated his ability to obstruct govenrment business refused to give the Finance Minister opportunity to accommodate their request and hurriedly moved to on their own attempt to vote against the budget in a bid to subject the Government of Ghana to embarrassment for their own partisan reasons."
They therefore assured Ghaanaian public that they are resolute to ensure the Constitution of the country is respected to the latter by Speaker and Minority.
By Vincent Kubi